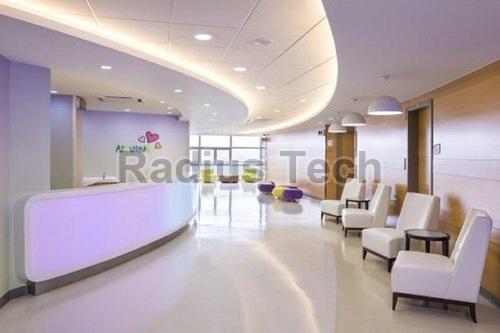 A healing, comfortable, and well-being-promoting atmosphere for patients, healthcare staff, and visitors is crucially influenced by hospital interior design. Hospitals can benefit from customized Hospital Interior Designing Services to turn sterile areas into hospitable surroundings. This improves the overall experience of both patients and employees.
Making a Calming Environment
By combining calming colors, natural features, and appropriate lighting, hospital interior designers work to create a relaxing atmosphere. Soft color schemes and nature-inspired patterns assist foster serenity. It lowers patient stress levels and fosters a supportive healing atmosphere.
Effective and Practical Layouts
To maintain efficient workflow and improve patient care, effective space planning is crucial in hospital architecture. Healthcare experts and interior designers collaborate closely to develop practical floor plans that reduce staff and patient travel. It increases communication and simplifies operations.
Patient-centered Methodology
The comfort and well-being of patients are given priority by Hospital Interior Designing Services. Patient rooms are created with ergonomic furniture, privacy features, and relaxing aspects to be both practical and pleasant. These well-considered design aspects help patients recuperate more quickly and with more happiness.
Implementing Infection Control Techniques
Hospital design must take infection management into account. To reduce the risk of infections and provide a secure atmosphere for patients and healthcare professionals, interior designers use elements like antimicrobial surfaces, easily-cleanable materials, and strategic placement of hand hygiene stations.
Using Technology In Combination
Healthcare has undergone a technological revolution, and hospital interior design must keep pace. The space's designers seamlessly integrate technology. This ensures that electronic medical record systems, telemedicine capabilities, and cutting-edge medical equipment are all included for effective patient care.
Friendly to Staff Design
Services for hospital interior design go beyond patient spaces to promote the well-being of medical personnel. To increase worker morale and job satisfaction, staff lounges, break rooms, and collaboration areas are created to be comfortable.
Navigation and Signage
Patients and visitors may find it difficult to find their way through big hospitals. Intuitive layouts, clear signs, and navigational components are intentionally incorporated by interior designers. This guarantees patient and visitor comfort and minimizes stress.
Eco-Friendliness And Sustainability
The promotion of sustainability and eco-friendliness is another key component of hospital interior design services. To lessen the environmental effect of healthcare facilities, designers use waste management techniques, sustainable materials, and energy-efficient lighting.
Combining Nature With Healing Art
Interior design for hospitals often includes artwork and features that are influenced by nature. Integrating therapeutic art, such as tranquil paintings and murals inspired by nature, produces a beneficial diversion. It lowers anxiety and improves the patient's entire healing experience.
Flexible Architecture for Future Needs
Hospital interior designers are aware of how healthcare facilities are always changing. To ensure long-term functionality and flexibility, they design flexible facilities that can readily accept technology improvements. It adjustments to healthcare delivery methods, and alters patient demands.
Conclusion
Hospital interior design services focus on developing healing spaces that support patient well-being, efficiency, and comfort, going beyond aesthetics. These services contribute to the overall performance of healthcare facilities. This includes components including peaceful ambiances, practical design, infection control measures, and technological integration.
Interior designers are essential in changing hospital buildings into loving settings that benefit patients, employees, and visitors alike.